System architecture / System requirements
System architecture
Simple Data Integrator (SDI) is composed by SDI Studio and SDI Worker agent.
SDI Studio is a tool for configuring connections, mappings, schedules and parameters.
The SDI Worker agent (Windows Service) is a tool that executes scheduled tasks.
The SDI Web Service provides a proxy to access the remote database.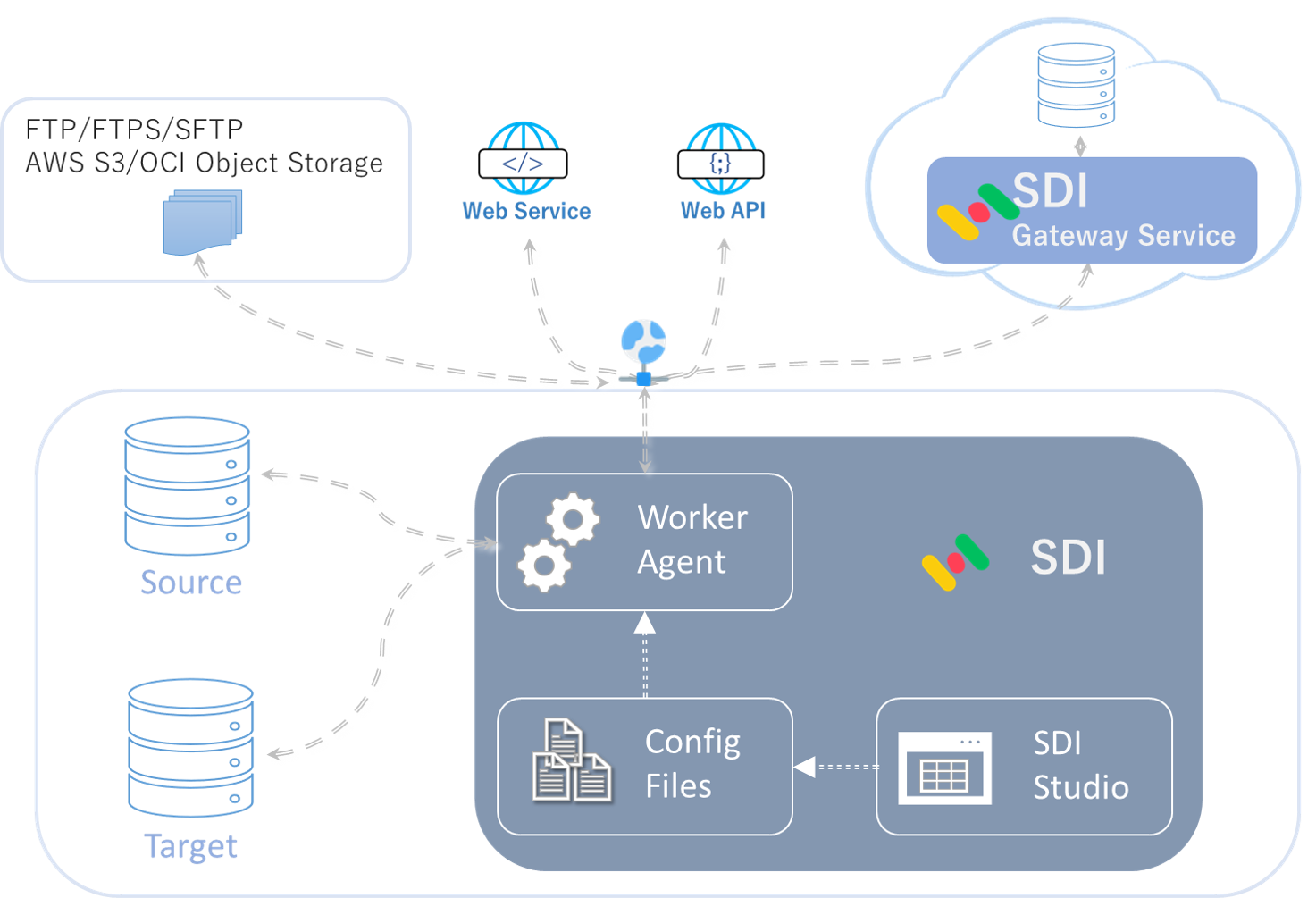 The SDI command line interface (SdiCli.exe) is also provided for the execution of mapping tasks from the command line.
System requirements
SDI
System requirements
OS
Windows 2019 / 2016 / 2012 R2 / 2012
Windows 11 / 10 / 8.1
* Only 64bit version is supported, 32bit version does not work.
.NET
Microsoft .NET Framework 4.7.2 or higher
CPU
No special conditions, if the operation system above works.
Memory
4GB or more
Display
Screen resolution 1280 * 800 or higher
SDI Web Service
| | System requirements |
| --- | --- |
| OS | Windows 2019 / 2016 / 2012 R2 / 2012 |
| .NET | Microsoft .NET Framework 4.6.1 or higher |
| IIS | Microsoft Internet Information Service (IIS) 8.x or 10.x |
| CPU | No special conditions, if the operation system above works. |
| Memory | 4GB or more |
Supported Datatype
Datatype
Version
Source
Target
Oracle
10g or higher
Autonomous Database
(Oracle)
19c or higher
SQLServer
2008 or higher
MySQL
5.6 or higher
PostgreSQL
9.6 or higher
DB2
10.1 or higher
RDBs connected via ODBC
CSV
Excel
JSON